What not to miss during an SEO audit
Unveiling the secrets of Google's algorithm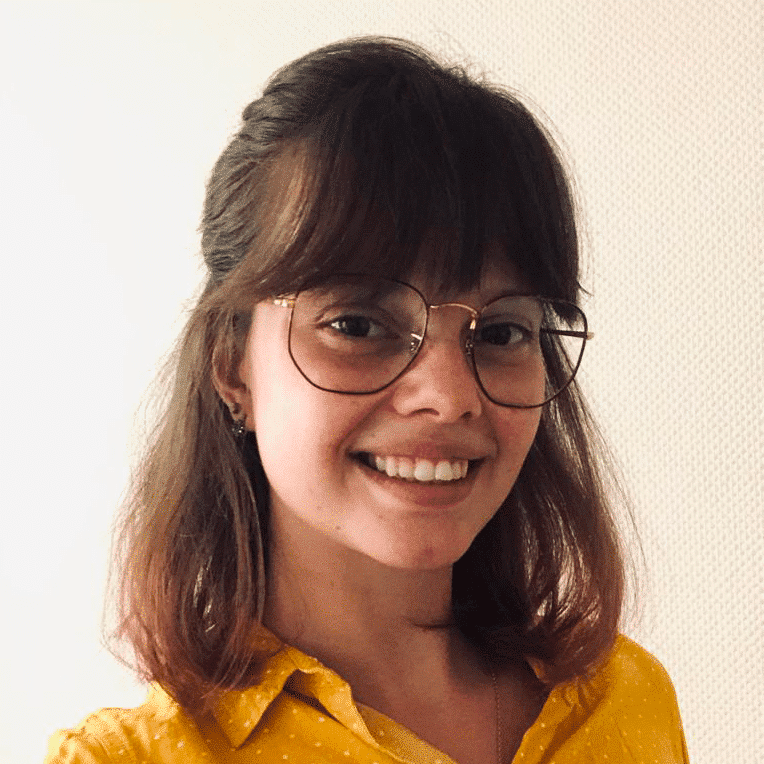 SEO audits can be complicated, not least because no one really knows exactly how Google works. However, these insights will help set you on the right track.
An SEO audit is an analysis of how your online presence relates to best practices. This is the first major step in creating a plan that will deliver measurable results, which will ideally involve increasing your visibility in the search results.
Google's search engine algorithms are among the most sophisticated in the world, and they're constantly evolving. There are currently at least 200 known ranking factors with varying levels of influence on the search results.
All these ranking factors fall into one of the three pillars of SEO – technology, relevance, and authority. While the best SEO practices change as Google's algorithm advances, these three pillars always stay the same to form the foundational elements of SEO.
In this guide, we will delve into how you can overcome some of the biggest challenges of SEO:
Why SEO is hard to get right
SEO offers a completely free way to enhance your business's online visibility. However, the constantly evolving nature of Google's algorithms mean that what might have worked just a few years ago no longer does. In some cases, the best practices of old have even become detrimental. For example, with the release of the Google BERT algorithm update in 2019, the attention shifted toward user intent, which doesn't always directly match the keywords entered into the search field. In other words, directly answering what people are searching for is no longer enough – you also need to know the real intention behind the keywords they enter.
Review the classic ranking factors
While many of Google's ranking factors are new or have changed since their inception, others are much the same as they always have been. These include the more obvious entries on an SEO auditing checklist, such as the following:
Technical considerations concern factors such as the layout of your website and the coding behind it. Clean code, for example, is essential for adhering to best practices. If your website regularly returns error messages, such as 404 pages due to dead links, its standing in search results may be adversely affected. When carrying out a technical SEO audit of your website, be sure to examine essential files, such as sitemap.xml and robots.txt. Also, don't forget to examine your content management system (CMS) for potential issues like outdated themes or plugins.
For the relevance pillar of SEO, you'll need to examine your content itself. The obvious starting point here is keyword choice and the prevalence of those keywords. Finding the right balance between content quality, relevance, and keyword usage, is especially important. For example, if you use too many duplicate keywords, Google's crawlers might penalise your site for keyword stuffing. On the other hand, if your content lacks conciseness or relevance, the crawlers will have a hard time trying to make sense of it and categorise it appropriately. Finally, don't forget to pay attention to user experience, as you need your site to perform well on any device or browser.
The final pillar concerns authority, which revolves around how your website stacks up against the competition. There is a lot of crossover here with the previous pillars as well. For example, if your content lacks focus or is too simplistic, then it might not be authoritative enough to do well in the search results. Another crucial element of authority is your backlink profile. If you have lots of backlinks on low-quality affiliate sites or article directories, this may reflect poorly on your site as well.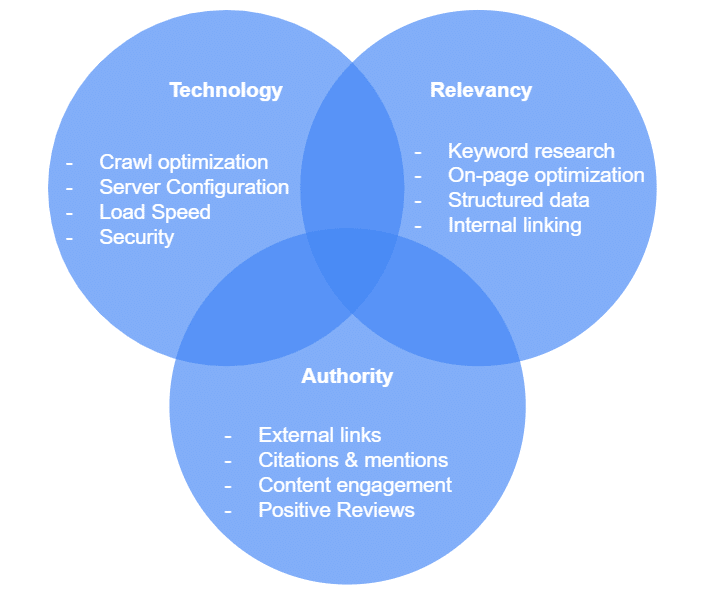 Think outside the box
Some of Google's most important ranking factors are not immediately obvious. This is why it is also important to go beyond the classic SEO auditing strategy. For example, in the case of
local businesses
, it is important to consider name address and phone number (NAP) listings in local directories and the impact of social media mentions and
reviews
. If you also are working with Paid Search, you need to think about the role localisation plays in your Google Ads campaigns to get a respectable return on investment. Another lesser known strategy is to target
long-tail keywords
, using multiple relevant phrases in your content to send a clear message to Google's crawlers on what your website is about. Choosing long-tail keywords also lets you home in on a specific niche where there is consistent traffic but not so much competition. Ideally, you should target a mix of niche and broader key phrases and compare their performance on a regular basis. Finally, be sure that you include keywords that directly target
user intent
. The best way to find the right keywords is to follow trends in your space and use tools like
Answer The Public
and
Google Trends.
By targeting user intent, you also have a better chance of getting into Google's Featured Snippets, also known as position zero in the search results.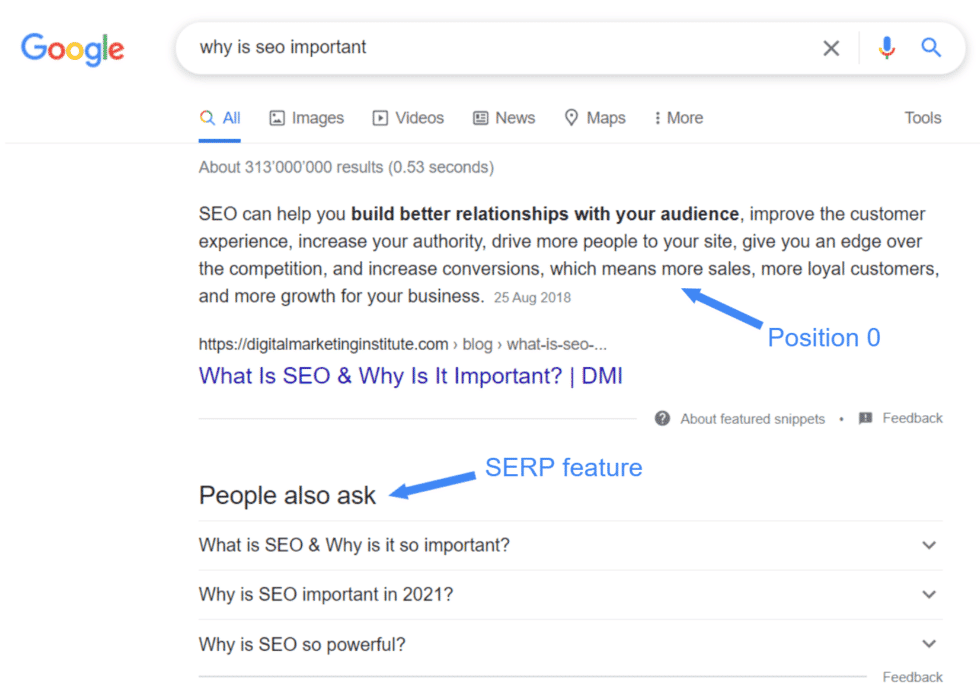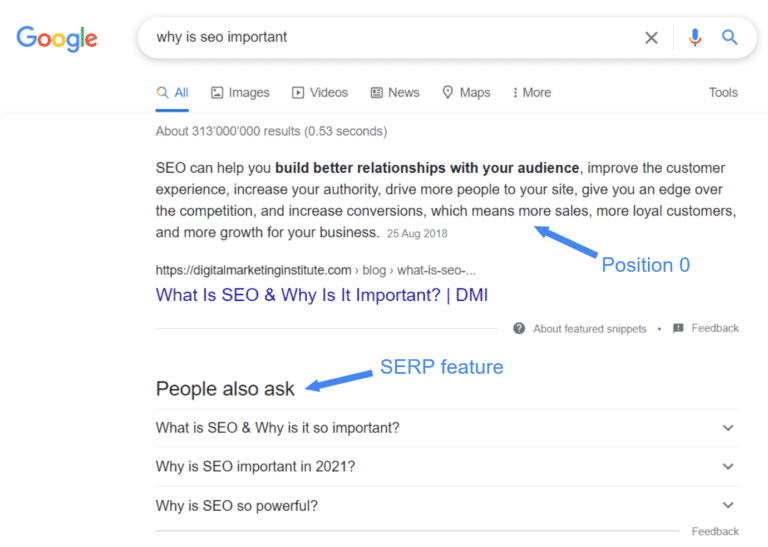 Follow Google's latest recommendations
While Google generally doesn't reveal a lot about the inner workings of its search algorithms, they do regularly publish recommendations for webmasters. This should be one of the first resources you refer to when optimizing your website. Here are some of the most important from 2021:
Focus on user experience – you can use a heatmap on your website to see how people are interacting with your content and navigation to reveal many important opportunities for improvement.
Page experience has become the most prominent factor that focuses on user-centric metrics, such as page loading times and the consistency of on-site navigation. Above all, make sure your site performs well on the small screen too.
Voice search and natural language processing (NLP) are playing a more important role in ranking, since many people now search the web via voice commands to smart home assistants.
Create content that clearly answers a specific question that a lot of people are asking. This will greatly increase your chances of getting into the Featured Snippet page at the top of the search results.
Don't forget about visual content. While Google is getting better at understanding video and images, you should still add relevant tags and text-based descriptions to explain what they are.
Take care of your KPIs
Lastly, you must regularly monitor your key performance indicators (KPIs). By tracking these critical metrics, you can look for areas in need of improvement and continuously optimise your website according to the latest best practices. Here are some of the most important KPIs you should be tracking:
Traffic fluctuation: How does your traffic compare on desktop and mobile devices?
Crawl frequency: How often do the search engine crawlers visit your website?
Bounce rate: What percentage of visitors leave your website straight after arriving?
Keyword competition: How do your keyword choices perform against competitors?
Keyword ranking fluctuation: How does keyword performance change over time?
Conversion fluctuation: How do your conversion rates change over time?
Organic click-through rate: How many visits do you get from organic search results?
Average time per page fluctuation: How long do visitors spend on your website?
Average number of pages visited fluctuation: How many pages do they visit?
How is your website performing in the search results? Are you delivering the experience that your users expect? Contact us today to schedule your first strategy session with comtogether and get answers to your most pressing SEO questions.