Post-COVID International Travel Recovery
International travel is expected to recover by up to 70% from pre-pandemic levels.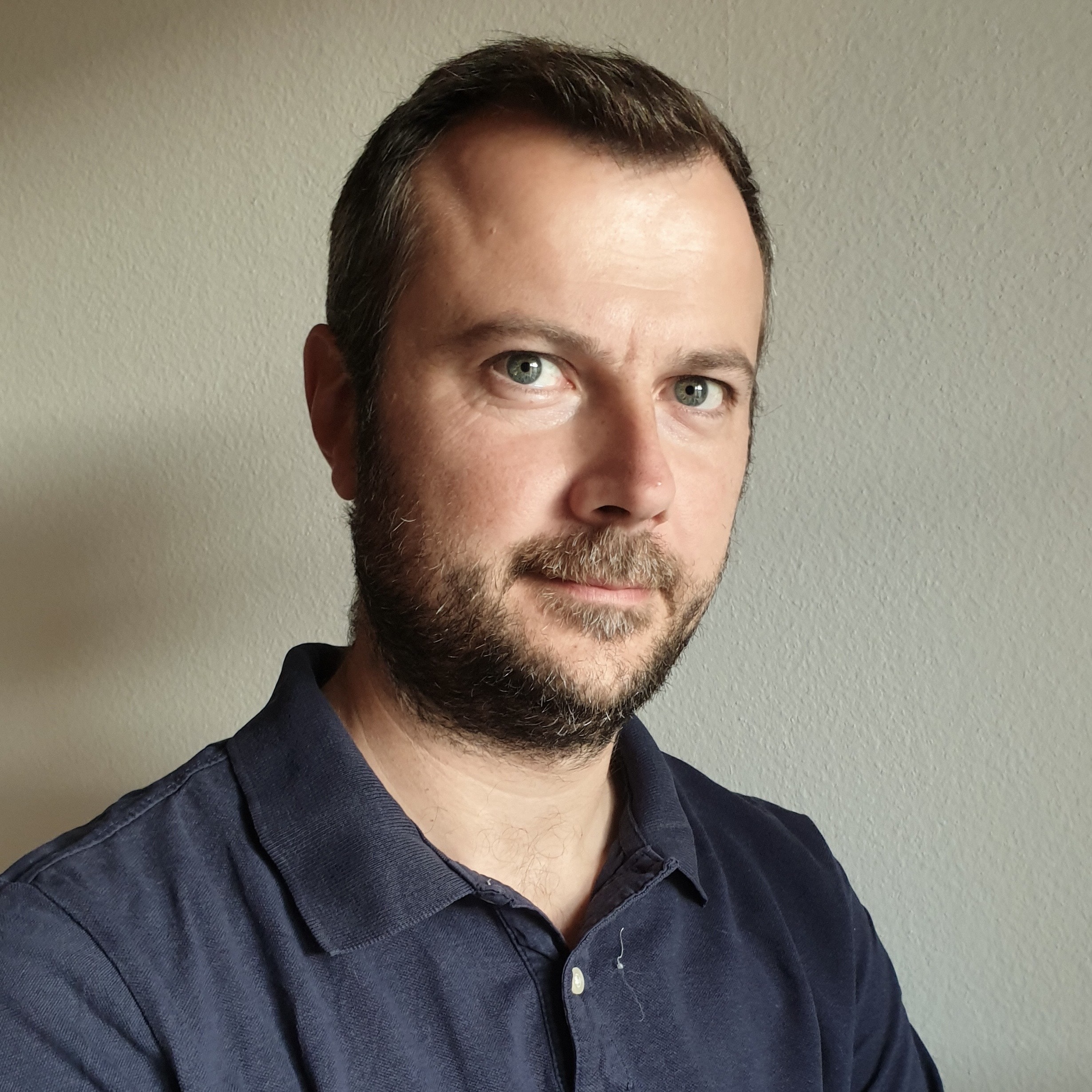 A 30-Year Setback in International Tourism
The 72% plunge of international travel in 2020 resulted in 1.1 billion fewer international tourists worldwide, putting the number of travelers back to levels of 30 years ago.
In 2021, International tourism experienced a 5% increase, with 22 million more international tourist arrivals compared to 2020. However, international arrivals were still 71% below the pre-pandemic year of 2019.
In a report published in May, the World Tourism Association has presented two scenarios that point to international arrivals reaching 55% to 70% of pre-pandemic levels in 2022 depending on evolving circumstances, changing travel restrictions as well as mounting economic and geopolitical challenges.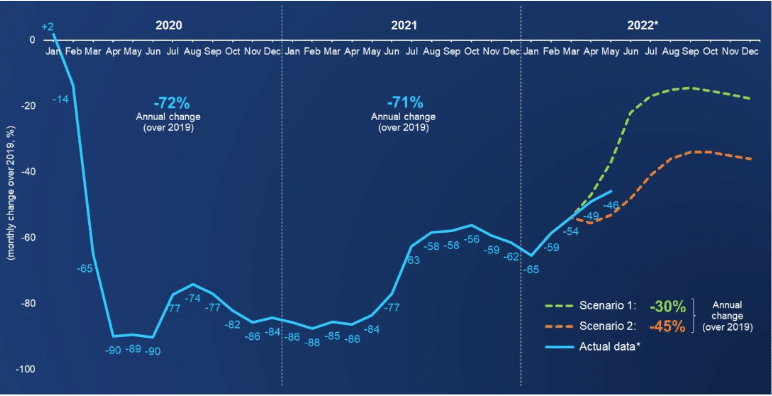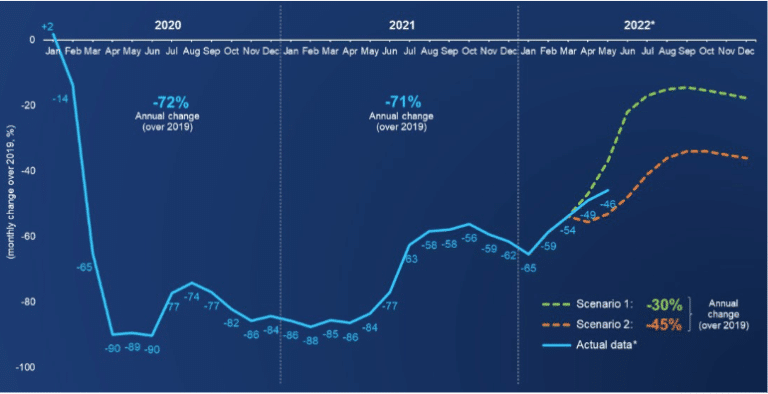 Source: World Tourism Association – unwto
An Uneven Recovery
According to data from January to May 2022, airport arrivals are still only at 46% compared to the same period in 2019. This indicates that the recovery of travel is still slow, and there is a long way to go before the industry can fully bounce back to pre-pandemic levels. However, the recovery rate varies greatly depending on the region.
In Europe, the recovery rate has been the highest, with arrivals at 64% compared to 2019. This can be attributed to the EU's efforts to ease travel restrictions and promote vaccination campaigns, which have helped to increase traveler confidence. The Americas follow closely behind with a recovery rate of 60%. This can be attributed to the successful vaccination rollouts in countries such as the United States, Canada, and Mexico.
In contrast, the recovery rate in Africa is at 50%, while the Middle East has only reached 46%. This can be attributed to the slow vaccination rates in these regions, as well as ongoing political and economic instability in some areas. In the Asia-Pacific region, the recovery rate is only at 10%, which is the lowest compared to other regions. This is mainly due to the strict COVID-19 measures and lockdowns imposed by countries such as China, Japan, Hong Kong, Malaysia, Mongolia, and Taiwan.
The uneven recovery of travel has significant implications for the travel industry and the global economy. Countries that rely heavily on tourism as a source of revenue, such as those in the Asia-Pacific region, are likely to experience a longer-lasting economic impact from the pandemic. In contrast, countries that have managed to reopen their borders and attract tourists are likely to see a faster recovery.